11.02.06


Recording is done.

Today we went into the studio, recorded about 5 seconds worth of vocal overdubs and were done. To celebrate, we opened up a bottle of very expensive bourbon and enjoyed it while we listened to a test mix of the final product.

Tomorrow we'll drop a copy of these mixes in the mail to a few friends and, after getting some feedback, we'll do a final mix in a week or so. Then the technical part of this is out of our hands.

So that's a relief. The final product is really good. That's all there is to say.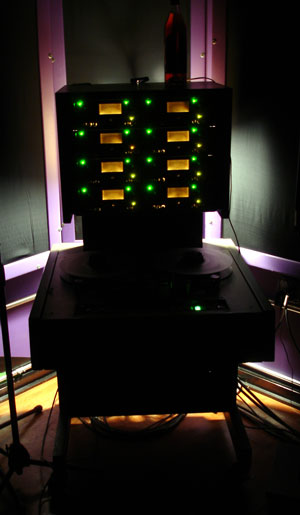 We (okay, I, being Justin) just like the way this thing looks. That's why you keep seeing all of the pictures of it. Note the fancy whiskey on top of it. That's about 1/2 gone right now.


NEWS ARCHIVES .

[last ]


2021
[ 6.22.21 ]
[ 6.9.21 ]

2019
[ 2.17.19 ]

2018
[ 4.29.18 ]

2017
[ 4.02.17 ]

2016
[ 4.08.16 ]
[ 2.09.16 ]

2015
[ 3.29.15 ]
[ 2.13.15 ]


2014
[ 6.17.14 ]
[ 5.23.14 ]


2013
[ 11.19.13 ]
[ 11.12.13 ]
[ 11.06.13 ]
[ 9.27.13 ]
[ 8.21.13 ]
[ 5.30.13 ]


2012
[ 9.12.12 ]
[ 4.24.12 ]


2011
[ 5.30.11 ]


2010
[ 11.30.10 ]
[ 10.05.10 ]
[ 08.18.10 ]
[ 04.27.10 ]
[ 04.15.10 ]
[ 03.28.10 ]
[ 01.20.10 ]


2009
[ 11.20.09 ]
[ 10.05.09 ]
[ 09.29.09 ]
[ 09.28.09 ]
[ 03.30.09 ]


2008
[ 12.31.08 ]
[ 10.08.08 ]
[ 09.19.08 ]
[ 07.29.08 ]
[ 05.03.08 ]
[ 02.25.08 ]
[ 01.04.08 ]


2007
[ 12.12.07 ]
[ 08.26.07 ]
[ 08.14.07 ]
[ 07.28.07 ]
[ 06.28.07 ]
[ 03.04.07 ]
[ 02.11.07 ]


2006
[ 11.28.06 ]
[ 09.20.06 ]
[ 08.17.06 ]
[ 08.08.06 ]
[ 08.06.06 ]
[ 06.08.06 ]
[ 04.18.06 ]
[ 01.18.06 ]


2005
[ 07.17.05 ]
[ 04.10.05 ]


2003-4
[ 11.15.04 ]
[ 09.24.04 ]
[ 06.17.04 ]
[ 05.16.04 ]
[ 04.21.04 ]
[ 04.13.04 ]
[ 03.25.04 ]
[ 02.23.04 ]
[ 02.18.04 ]
[ 02.02.04 ]
[ 01.12.04 ]
[ 08.27.03 ]