03.28.10


Another record is coming out on May 4.

The next record that we are putting out is called Backsliders and Apostates Will Burn. This is a four song EP that's about 20 minutes of music. As with everything else that we've done, we recorded it ourselves and have bugged the hell out of everyone else involved to make sure it's how we want it. So we like it.

We've thought a bit about this and we're making it available in a few formats:
CD - We assume that almost everyone who gets it on CD really just wants a copy they can have, listen to and keep. We tried to get it available at a $5 price point, but the label tells us it's impossible. That said, you get all of the artwork and it sounds as good as a CD is going to sound. But it's small and the packaging is simple, to keep it cheap.


Vinyl - This is the format that we're most excited about. The artwork will be full-sized, there is a fun insert-thing, the full CD will be included and it should look sharp. And the sound of it! We've only listened to the lacquer references that John Golden did but they are really stunning. 45 RPM, 12 inch and black ONLY. (Experience and Internet chatter say that colored vinyl and picture discs are not as robust as black.)


Data-DVD-R - We're almost as excited about this as the vinyl. Although the packaging will be dirt-simple, this is the most full-featured for those so inclined. In addition to 24-bit .WAV copies of the mastered mixdowns, this disc will include unmastered raw tracks of every song on the record - bass, drum machine, guitar, vocals, room sound. So you can remix the thing to your heart's content on your favorite DAW program. In addition, we're including .pdfs and Adobe Illustrator files of all the album artwork (including some photos not selected for the final version). We've tested this with about a dozen strangers and it should work for audio beginners and beyond. Super geeky; Justin loves it.


Download - I guess you'll be able to download it from somewhere like itunes or something. This is not really important to us, but go for it if this is how you like to do things.
More news to come as the release date approaches. We're going to run another contest and there's some other things happening. Justin's got the release date as his own deadline to finish getting the recording updates done. You know, if you're following that whole business.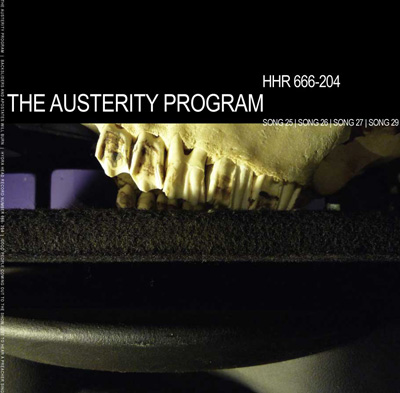 If someone accosts you on the street and asks if you want to buy a CD that looks like this for "only $6 or hey, what do you got, man" while looking over his shoulder, declare a citizens arrest.


NEWS ARCHIVES .

[last ]


2021
[ 6.22.21 ]
[ 6.9.21 ]

2019
[ 2.17.19 ]

2018
[ 4.29.18 ]

2017
[ 4.02.17 ]

2016
[ 4.08.16 ]
[ 2.09.16 ]

2015
[ 3.29.15 ]
[ 2.13.15 ]


2014
[ 6.17.14 ]
[ 5.23.14 ]


2013
[ 11.19.13 ]
[ 11.12.13 ]
[ 11.06.13 ]
[ 9.27.13 ]
[ 8.21.13 ]
[ 5.30.13 ]


2012
[ 9.12.12 ]
[ 4.24.12 ]


2011
[ 5.30.11 ]


2010
[ 11.30.10 ]
[ 10.05.10 ]
[ 08.18.10 ]
[ 04.27.10 ]
[ 04.15.10 ]
[ 03.28.10 ]
[ 01.20.10 ]


2009
[ 11.20.09 ]
[ 10.05.09 ]
[ 09.29.09 ]
[ 09.28.09 ]
[ 03.30.09 ]


2008
[ 12.31.08 ]
[ 10.08.08 ]
[ 09.19.08 ]
[ 07.29.08 ]
[ 05.03.08 ]
[ 02.25.08 ]
[ 01.04.08 ]


2007
[ 12.12.07 ]
[ 08.26.07 ]
[ 08.14.07 ]
[ 07.28.07 ]
[ 06.28.07 ]
[ 03.04.07 ]
[ 02.11.07 ]


2006
[ 11.28.06 ]
[ 09.20.06 ]
[ 08.17.06 ]
[ 08.08.06 ]
[ 08.06.06 ]
[ 06.08.06 ]
[ 04.18.06 ]
[ 01.18.06 ]


2005
[ 07.17.05 ]
[ 04.10.05 ]


2003-4
[ 11.15.04 ]
[ 09.24.04 ]
[ 06.17.04 ]
[ 05.16.04 ]
[ 04.21.04 ]
[ 04.13.04 ]
[ 03.25.04 ]
[ 02.23.04 ]
[ 02.18.04 ]
[ 02.02.04 ]
[ 01.12.04 ]
[ 08.27.03 ]