04.13.04



We've begun posting our sage advice. You can tunnel through the Miscellaneous link above or just click [ here ].

Lots going on in the studio construction, but we're keeping the updates brief until we get our hands on a better camera. The disposable camera we've been using isn't cutting the mustard, as you can see from the picture to the right.

[ Studio Construction - 04.13.04 ]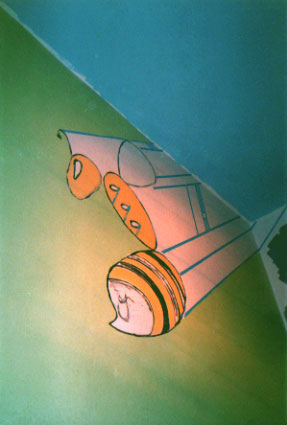 The beginning of the mural on the north wall of the studio. It's almost like he's about to fly out of your computer!


NEWS ARCHIVES .

[last ]


2021
[ 6.22.21 ]
[ 6.9.21 ]

2019
[ 2.17.19 ]

2018
[ 4.29.18 ]

2017
[ 4.02.17 ]

2016
[ 4.08.16 ]
[ 2.09.16 ]

2015
[ 3.29.15 ]
[ 2.13.15 ]


2014
[ 6.17.14 ]
[ 5.23.14 ]


2013
[ 11.19.13 ]
[ 11.12.13 ]
[ 11.06.13 ]
[ 9.27.13 ]
[ 8.21.13 ]
[ 5.30.13 ]


2012
[ 9.12.12 ]
[ 4.24.12 ]


2011
[ 5.30.11 ]


2010
[ 11.30.10 ]
[ 10.05.10 ]
[ 08.18.10 ]
[ 04.27.10 ]
[ 04.15.10 ]
[ 03.28.10 ]
[ 01.20.10 ]


2009
[ 11.20.09 ]
[ 10.05.09 ]
[ 09.29.09 ]
[ 09.28.09 ]
[ 03.30.09 ]


2008
[ 12.31.08 ]
[ 10.08.08 ]
[ 09.19.08 ]
[ 07.29.08 ]
[ 05.03.08 ]
[ 02.25.08 ]
[ 01.04.08 ]


2007
[ 12.12.07 ]
[ 08.26.07 ]
[ 08.14.07 ]
[ 07.28.07 ]
[ 06.28.07 ]
[ 03.04.07 ]
[ 02.11.07 ]


2006
[ 11.28.06 ]
[ 09.20.06 ]
[ 08.17.06 ]
[ 08.08.06 ]
[ 08.06.06 ]
[ 06.08.06 ]
[ 04.18.06 ]
[ 01.18.06 ]


2005
[ 07.17.05 ]
[ 04.10.05 ]


2003-4
[ 11.15.04 ]
[ 09.24.04 ]
[ 06.17.04 ]
[ 05.16.04 ]
[ 04.21.04 ]
[ 04.13.04 ]
[ 03.25.04 ]
[ 02.23.04 ]
[ 02.18.04 ]
[ 02.02.04 ]
[ 01.12.04 ]
[ 08.27.03 ]