5.30.13


The past few months have kept us busy in a very introverted way.

Most importantly, we have finished writing our next record. It's 8 songs long, will probably be just about 40 minutes anbd we plan to record it late in the summer after we have practiced it to death. As threatened/promised/hoped, it buries the rest of the stuff that we've done. I mean, I know that it's sure boring to hear people's description of their music when you'd probably rather just hear the music, but I don't have any to share yet. The most I can do is just tell you something about it, and the best thing I can think of is that it is really our favorite thing that we've done yet by a mile.

Since Hydra Head is no more, we have been working on an alternate arrangement for releasing the thing that will probably mean it won't come out until the beginning of 2014. But stuff will surface prior to that and we have pee-lenty of news heading up to the release date. But for the summer, we won't be heading to the West Coast any time soon (ugh), won't be playing lots of local shows (eh, probably not a bad thing at the moment) and won't be doing anything other than getting together and playing these songs again and again. And then recording them.

Shit, I think I just wrote one of those "under construction" posts. That's what this is, isn't it?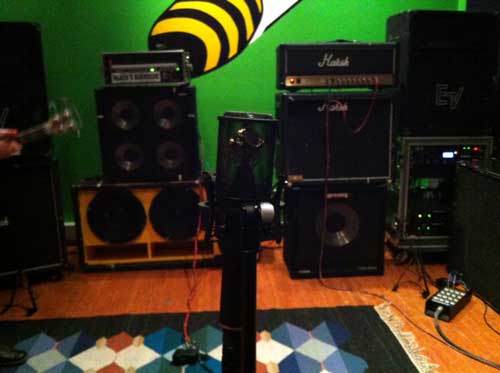 A recent practice from the perspective of a fancy microphone that Justin bought. You can just barely see Thad over on the left (he's shy).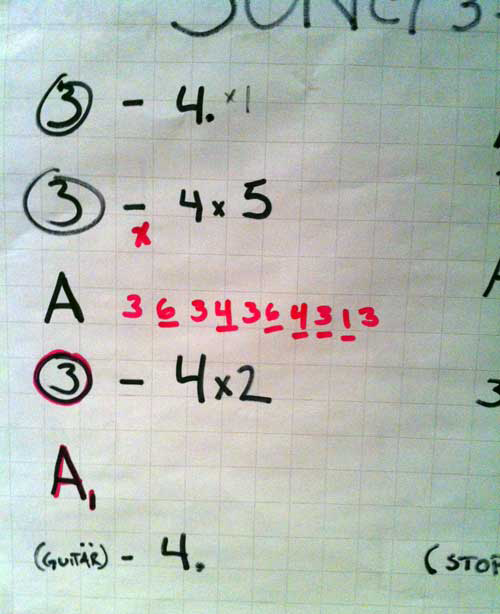 Sometimes we wish we'd paid more attention to notes and clefs and all that when we were in grade-school music class. This is barely understandable even to us, and we wrote it.


NEWS ARCHIVES .

[last ]


2021
[ 6.22.21 ]
[ 6.9.21 ]

2019
[ 2.17.19 ]

2018
[ 4.29.18 ]

2017
[ 4.02.17 ]

2016
[ 4.08.16 ]
[ 2.09.16 ]

2015
[ 3.29.15 ]
[ 2.13.15 ]


2014
[ 6.17.14 ]
[ 5.23.14 ]


2013
[ 11.19.13 ]
[ 11.12.13 ]
[ 11.06.13 ]
[ 9.27.13 ]
[ 8.21.13 ]
[ 5.30.13 ]


2012
[ 9.12.12 ]
[ 4.24.12 ]


2011
[ 5.30.11 ]


2010
[ 11.30.10 ]
[ 10.05.10 ]
[ 08.18.10 ]
[ 04.27.10 ]
[ 04.15.10 ]
[ 03.28.10 ]
[ 01.20.10 ]


2009
[ 11.20.09 ]
[ 10.05.09 ]
[ 09.29.09 ]
[ 09.28.09 ]
[ 03.30.09 ]


2008
[ 12.31.08 ]
[ 10.08.08 ]
[ 09.19.08 ]
[ 07.29.08 ]
[ 05.03.08 ]
[ 02.25.08 ]
[ 01.04.08 ]


2007
[ 12.12.07 ]
[ 08.26.07 ]
[ 08.14.07 ]
[ 07.28.07 ]
[ 06.28.07 ]
[ 03.04.07 ]
[ 02.11.07 ]


2006
[ 11.28.06 ]
[ 09.20.06 ]
[ 08.17.06 ]
[ 08.08.06 ]
[ 08.06.06 ]
[ 06.08.06 ]
[ 04.18.06 ]
[ 01.18.06 ]


2005
[ 07.17.05 ]
[ 04.10.05 ]


2003-4
[ 11.15.04 ]
[ 09.24.04 ]
[ 06.17.04 ]
[ 05.16.04 ]
[ 04.21.04 ]
[ 04.13.04 ]
[ 03.25.04 ]
[ 02.23.04 ]
[ 02.18.04 ]
[ 02.02.04 ]
[ 01.12.04 ]
[ 08.27.03 ]