04.18.06


Wiring and practicing

Practicing continues for the songs on the full length. At night, Justin sneaks out to the studio building to wire patchbays and solder things. It's funny; we almost sorta feel like a band again.

Justin stole our friend [ Matt Shobe ] for a long weekend to drive down to Nashville. We met there with Randy Blevins and Steve Sanders at [ Blevins Audio ]. Despite Steve's attempts to get us to wear a Confederate flag, we still like them a lot. Randy gave us the Blevins Special tour of Nashville and made sure we got a good breakfast at the Pancake Palace. If you're in Nashville, eat there; it's better than Waffle House. We gave Randy some money and he gave us a 2 track tape recorder. It's the middle one in the photo to the right. Randy promises us he'll send us some photos from the weekend.

Our friend John Miller has been taking some video of us practicing. As soon as we find his phone number, we'll paste it here and you can call him and ask him what the hell he thinks he's doing.

[Studio Construction - 04.18.06 ]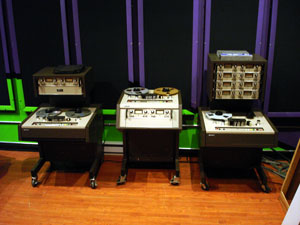 The strange robotic warriors assumed battle formation. "Your meager calls for surrender do not compute" they chirped.


NEWS ARCHIVES .

[last ]


2021
[ 6.22.21 ]
[ 6.9.21 ]

2019
[ 2.17.19 ]

2018
[ 4.29.18 ]

2017
[ 4.02.17 ]

2016
[ 4.08.16 ]
[ 2.09.16 ]

2015
[ 3.29.15 ]
[ 2.13.15 ]


2014
[ 6.17.14 ]
[ 5.23.14 ]


2013
[ 11.19.13 ]
[ 11.12.13 ]
[ 11.06.13 ]
[ 9.27.13 ]
[ 8.21.13 ]
[ 5.30.13 ]


2012
[ 9.12.12 ]
[ 4.24.12 ]


2011
[ 5.30.11 ]


2010
[ 11.30.10 ]
[ 10.05.10 ]
[ 08.18.10 ]
[ 04.27.10 ]
[ 04.15.10 ]
[ 03.28.10 ]
[ 01.20.10 ]


2009
[ 11.20.09 ]
[ 10.05.09 ]
[ 09.29.09 ]
[ 09.28.09 ]
[ 03.30.09 ]


2008
[ 12.31.08 ]
[ 10.08.08 ]
[ 09.19.08 ]
[ 07.29.08 ]
[ 05.03.08 ]
[ 02.25.08 ]
[ 01.04.08 ]


2007
[ 12.12.07 ]
[ 08.26.07 ]
[ 08.14.07 ]
[ 07.28.07 ]
[ 06.28.07 ]
[ 03.04.07 ]
[ 02.11.07 ]


2006
[ 11.28.06 ]
[ 09.20.06 ]
[ 08.17.06 ]
[ 08.08.06 ]
[ 08.06.06 ]
[ 06.08.06 ]
[ 04.18.06 ]
[ 01.18.06 ]


2005
[ 07.17.05 ]
[ 04.10.05 ]


2003-4
[ 11.15.04 ]
[ 09.24.04 ]
[ 06.17.04 ]
[ 05.16.04 ]
[ 04.21.04 ]
[ 04.13.04 ]
[ 03.25.04 ]
[ 02.23.04 ]
[ 02.18.04 ]
[ 02.02.04 ]
[ 01.12.04 ]
[ 08.27.03 ]