11.06.13


Recording again.

It's been a very long time, but we are recording our next record as of last night.

The approach on this is straightforward: we set up a half dozen microphones in the room and play the songs. Justin put all of the songs from the drum machine onto the tape machine, so the two of us just play along with that in the background. It sounds a lot like it would if you were in the room with us. Once we finish recording the bass and guitar, Justin wil do the vocals in a night or two and then we'll mix it down.

And then it's done.

It's real work, mainly because playing the songs under the microscope of recording feels a little stressful. You'll be 4 minutes into perfectly playing a song you've played over 50 times before and your brain will start saying "nearly at the end, don't screw up now, DON'T LISTEN TO ME, KEEP PAYING ATTENTION BUT ALSO BE NATURAL" and then you just tense the hell up for no reason.

Eh ... small potatoes, really. In a short while, all eight of these songs will be on tape and we'll be able to share them with the world and really listen to them ourselves. And that is a sublime joy, one of my (Justin's) most favorite things in life.

Three songs done so far. Thad comes over in a few days and we'll knock out a few more. We should be doing vocals by the middle of next week and have it in the mail to the mastering house by next weekend.

Man, that is great.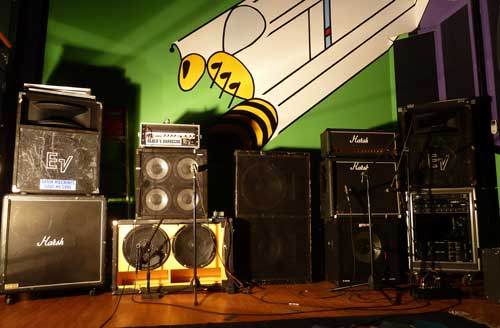 My oh my will you look at the dramatic lighting on this picture? All the mics set up and everything. What an impressive presentation!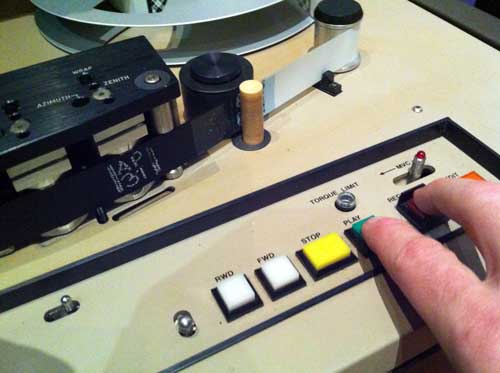 Here is Justin at like the actual second that he started recording the drum machine for Song 31, the first new one to go on tape. I know that no one else posts weird pictures like this but after four years, this is a big deal for us.


NEWS ARCHIVES .

[last ]


2021
[ 6.22.21 ]
[ 6.9.21 ]

2019
[ 2.17.19 ]

2018
[ 4.29.18 ]

2017
[ 4.02.17 ]

2016
[ 4.08.16 ]
[ 2.09.16 ]

2015
[ 3.29.15 ]
[ 2.13.15 ]


2014
[ 6.17.14 ]
[ 5.23.14 ]


2013
[ 11.19.13 ]
[ 11.12.13 ]
[ 11.06.13 ]
[ 9.27.13 ]
[ 8.21.13 ]
[ 5.30.13 ]


2012
[ 9.12.12 ]
[ 4.24.12 ]


2011
[ 5.30.11 ]


2010
[ 11.30.10 ]
[ 10.05.10 ]
[ 08.18.10 ]
[ 04.27.10 ]
[ 04.15.10 ]
[ 03.28.10 ]
[ 01.20.10 ]


2009
[ 11.20.09 ]
[ 10.05.09 ]
[ 09.29.09 ]
[ 09.28.09 ]
[ 03.30.09 ]


2008
[ 12.31.08 ]
[ 10.08.08 ]
[ 09.19.08 ]
[ 07.29.08 ]
[ 05.03.08 ]
[ 02.25.08 ]
[ 01.04.08 ]


2007
[ 12.12.07 ]
[ 08.26.07 ]
[ 08.14.07 ]
[ 07.28.07 ]
[ 06.28.07 ]
[ 03.04.07 ]
[ 02.11.07 ]


2006
[ 11.28.06 ]
[ 09.20.06 ]
[ 08.17.06 ]
[ 08.08.06 ]
[ 08.06.06 ]
[ 06.08.06 ]
[ 04.18.06 ]
[ 01.18.06 ]


2005
[ 07.17.05 ]
[ 04.10.05 ]


2003-4
[ 11.15.04 ]
[ 09.24.04 ]
[ 06.17.04 ]
[ 05.16.04 ]
[ 04.21.04 ]
[ 04.13.04 ]
[ 03.25.04 ]
[ 02.23.04 ]
[ 02.18.04 ]
[ 02.02.04 ]
[ 01.12.04 ]
[ 08.27.03 ]