05.16.04

The Return of the King.

For the past two weekends, we've been blessed with visits from the Master Electrician. And that is one guy you want coming over to your place.
In that time, we've been putting down EMT, the metal piping that carries the wires and housing for the electrical system. In most houses, the electical system is hidden behind walls, only peeking out in switches and plugs. But both of us and the Master Electrician find this metal tubing to have a strong beauty, and we're proud to display it throughout the building.
Sure, there's a few more boards that need to be done on the floor. And, to be frank, we probably are guilty of putting off doing the sanding and poly coating that will be unpleasant. But it's nice to walk into the place and not fumble around for a plug in utter darkness as you try to get some light. Instead, you just flip the magic switch and well placed track lighting illuminates your world. Very nice.
Current estimates figure Sept. 1 as the move in date. That's depressingly far away, but it would go quicker if you came over and helped.
Musical accompaniment (and keep in mind that the Master Electrician likes it mellow):
Newness Ends - The New Year
Papo Gato - Pocho Sanchez
The Buena Vista Social Club - OST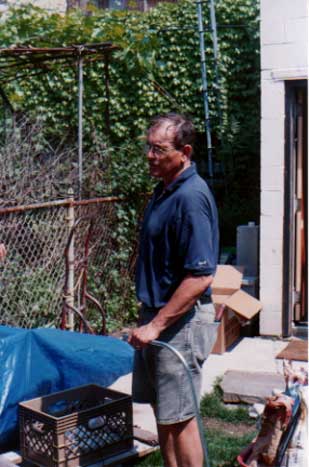 Humanitarian, Artisan, Visionary - The Master Electrician's guidance through the design and installation of the electrical system is guided by moral clarity and technical mastery.




[ LATEST UPDATE ]

[ Archives ]


CONSTRUCTION

[ Overview ]

[ Basic Construction ]

[ Acoustics ]

[ HVAC ]

[ Electrical ]

[ The Grand Vision ]

[ Tool Reviews ]

[ Links and Resources ]