04.13.04

Deadlines are a good thing.


Despite the wet and crummy weather, things are hopping out in the studio. We took a bunch of photos with a disposable camera, but it was junk and took awful pictures. We decided not to post them.

We were hoping to have the walls ready for an electrical installation a week or so ago, as the Master Electrician agreed to come on down and help out again. While we weren't able to get it all ready, he still helped us paint. What a guy. With help from him and AP honorary members Julie and Jill, the walls are taking on their permanent color. We were estatic to find that the drywall job is more than passable.

Almost all of the drywall sanding is done, which is a relief. Here's something interesting that we found out - when you sand drywall compound off of the joints, the dry dust sails all over the place, including up your nose. When you later blow your nose, you find that the stuff sitting in the tissue looks exactly like the original wet compound. Anyway, the colors are looking sharp, and we're starting to research what kind of hardwood floor we'll be putting in.

More tool reviews coming soon.


Musical accompaniment:

Boy in da Corner - Dizzee Rascal
Mucho Mucho Machito - Machito y su Orchestra
Dry - PJ Harvey
The Lightning Fingers of Roy Clarke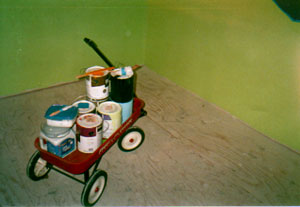 Less than 24 hours before this, these walls still needed sanding. Wow, we are fast.




[ LATEST UPDATE ]

[ Archives ]


CONSTRUCTION

[ Overview ]

[ Basic Construction ]

[ Acoustics ]

[ HVAC ]

[ Electrical ]

[ The Grand Vision ]

[ Tool Reviews ]

[ Links and Resources ]