03.05.04

A Visit from the Master Electrician


Took a break from sanding drywall for two days to take advantage of a visit from the Master Electrician.

This guy's work ethic is crazy. He's out of bed by five each morning, and after we fill him with bagels and coffee, he's off and running. He and Justin spent two full days out in the studio, wiring up the panel (pristine and beautiful, pictured right) and working on the shelving walls. At night we give him Amstel Light and he tells us what a good time he has visiting us.

Owens-Corning is ridiculous and tells us that they won't sell us a product of theirs, as we're not building tradesmen. I can't figure out why they won't take my money. This means we weren't able to get our hands on 705, which Ethan Winer claims is a good and cheap alternative to expensive bass killing treatment. So the walls that will frame the shelves (which are framed out in the picture to the right) have been filled with an "Acoustic Deadening" insulation bought at the local contractor's warehouse. They might not be perfect, but they sound ghouslishly quiet. Which is good.

Next update - reviews of some critical tools for amateurs building stuff like this.


Musical accompaniment (and it's the Electrician's choice):

Sing Along With ... - The Kingston Trio
The Best of ... - Simon and Garfunkle
The Best of ... - Chicago
California Dreamin' - The Best of ... - The Mamas and the Papas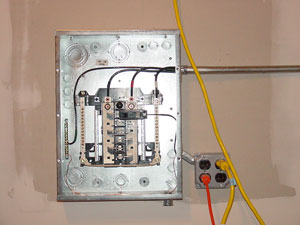 iAy, que bonita! Ignore the dangling yellow extension cord and feast your eyes on this captivaiting electrical panel!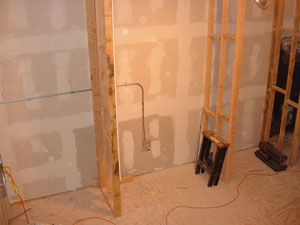 Looking west towards the door - the three framed walls that will act as the support for the shelves. Note the pro conduit run, courtesy of the Master Electrician.



[ LATEST UPDATE ]

[ Archives ]


CONSTRUCTION

[ Overview ]

[ Basic Construction ]

[ Acoustics ]

[ HVAC ]

[ Electrical ]

[ The Grand Vision ]

[ Tool Reviews ]

[ Links and Resources ]