Thursday, June 20, 2019
Munich, DE
Ciao bella, I write you from the loveliness of the Italian Alps. These rare peaks are majestically presented to my fragile, mortal eye in the lousiest way: from the middle seat in a van, five hours into an eight hour ride, on the highway. I can only hope that somewhere in the beautiful vista around us, someone's just finished a soul-fueling hike up one of these mountains, vaguely hears the hum of the highway miles away from her lookout and thinks "ugh, those people have no idea what they're missing."
Yesterday was Germany in general and Munich in particular. Again - big multi-stage venue (just one building, though), bandapartment, dudes in black t-shirts and arms full 'o ink coming out to greet us (who are mostly same demographic). The change for the night was that we would open, Daniel would play in the middle, SUMAC would round out the night.
During our sound-check I encountered a technical problem that was very unexpected; I'll save you the details but the solution meant my getting to a store to buy a half dozen nine-volt batteries. It was 7:40. The store closed at 8:00. We were slated to start at 8:30. Move it, Foley.
I hightailed it to whatever you call a store sized 1/3 of the way between a mini-mart and a supermarket. (I guess if it's not "mini" and not "super" it would just be a market, right? But if I said that you'd think I was running up and down wooden stalls and scales for weighing fresh fish. The English language is weird.) Made it inside, found the batteries, got in a stupidly long line, finally got out of there.
The point in telling you this truly mundane story is to share my photos of the jog back. Turns out a path through a park adjacent to the venue was just as quick as the street I'd hustled along earlier, so why not. And look at this!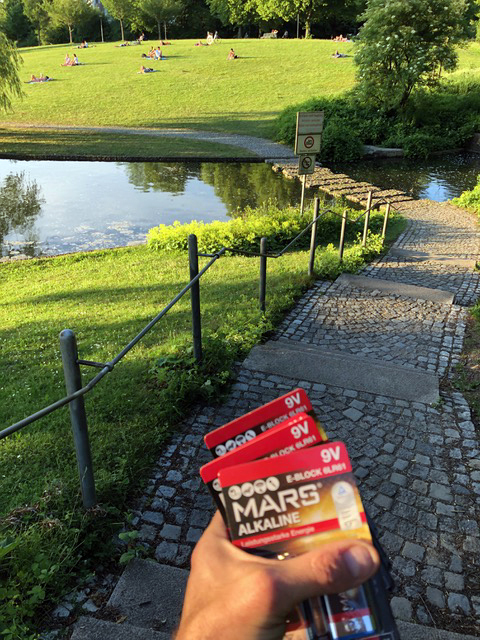 A river foot-bridge.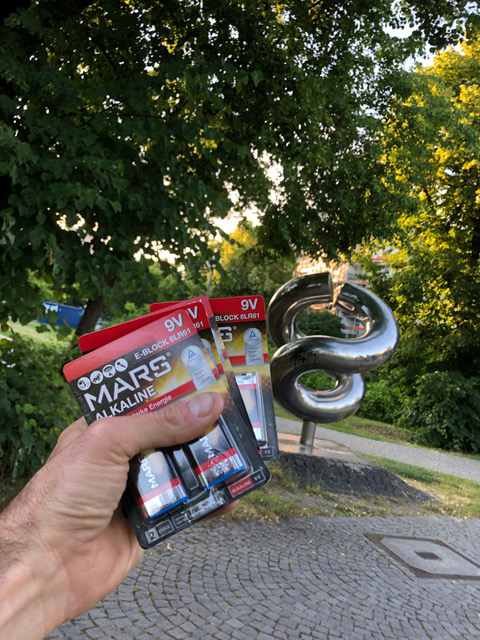 Public sculpture.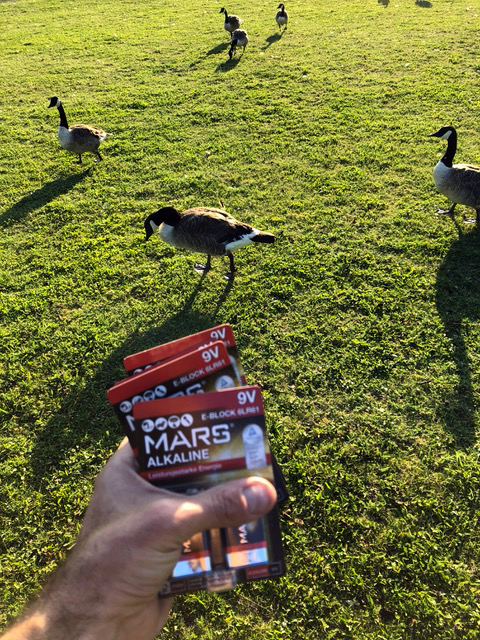 Geese.
And nine minutes later, I was back at the club, chucking the batteries into place and scrambling to get into performance mode.
So for anyone still readings these not-very-short dispatches, you may remember that I said that we would suck the first night but, lo, we did not suck. That must have been a vision of the future because we sure sucked last night. True, Thad was less down on it than me. But the crowd was thin for us, they had not-so-much energy and I kept missing stuff. It's lousy when I realize in the middle of a show that it's not going well because it turns into a vicious cycle - thinking about it not going well while it happens leads to more mistakes leads to more thinking. At one point my mind drifted enough that I was thinking about writing this journal entry to tell you about it. How meta, right? Anyway.
Thad and I debriefed that mess over lukewarm dinner and cold beer in the bandapartment kitchen. (No one was buying anything anyway so it's not like they missed us at the merch table.) I gulped down the last of whatever that delicious vegetable and potato thing is they gave us and headed back to park myself immediately in front of the stage. Tonight was my designated night to really watch SUMAC*.
Some reading this will know about this band SUMAC and you can probably skip a paragraph or two. For those who don't I'll try to convey what I like about them:
The first thing to say is that the band has two members who are undoubtedly about the best at what they do. Nick Yacyshun is an inhuman keeper of time. I have not ever, in over three decades of watching a lot of bands, seen anyone hit with such absolute precision AND cacophonous attack AND full room-cracking power. And, immediately to the stage right of him is bassist Brian Cook who is frankly a standard by which any other current loud-rock bassist should be measured. Which I know sounds super-corny (why is anyone measuring bassist-ness). But you just watch him play with absolute authority, like the entire building around him could just collapse (as it feels like it will with SUMAC) and the deluge of rubble would bounce off him, face covered in concrete dust and blood as he still ripped out bass lines in perfect meter. Unholy.
Which brings us to SUMAC-er #3, Aaron Turner. Tough to just say he's the best at his position because there's many different kinds of singer/guitar players, but no one does what Aaron does in any way the same. The band was his idea, he's (I think) still the principal song-writer and man is that dude a fear-striking vision on stage.
All-star collections are never as good as the best seasonal team, right?. Ah - not so with SUMAC. Somehow they are even more than the sum of their parts. Standing right in front of the three of them (and I was in superfan spot, everyone in the crowd behind me, dead-center) feels like nothing so much as toeing the threshold of an open furnace door. Inside is all flame and molten heat; you're given the full picture of a different environment that envelops you but that you should not approach closer. The consistent theme of the music, whether they are slowly punctuating near emptiness or tearing through a galloping blitz, is a considered darkness. It's right there from the first mono-note bassline/drum stomp that opens their set to the final cacophony-into-silence reverse that ends it. SUMAC is a rare experience of a vision executed with utter distinction. It is sometimes really uncomfortable and so might not appeal to many. But no one could argue that they aren't dead-on for what they want to get done. Because they are dead-on.
We finished the night in the shared bandapartment dorm. Thad and I corralled whomever we could to the kitchen to play "Oh Hell", a dumb-named but frequently brutal card game. This ended up being Nick (into it for about 5 minutes), Brian (solid) and SUMAC sound-dude Hein. I skipped Hein in the initial cast of characters because I knew nothing about him (woulda said: "has a beard and wears glasses"). But about 1/2 way through the second hand it became apparent that Hein was a real bastard at cards. This particular game is a fun slog of frustrated expectations and delivering the shiv to other players; Hein has some real scoundrel buried in him and right away locked into the misanthropic instinct for the game. Needless to say, I warmed up to him a bunch as the game went on. Good guy.
Milan tonight. Aaron's prediction: "the actual performance will be great. Everything else around it will be a total mess."
(Spoiler alert - he was right. Tune in tomorrow.)
*Aaron tells me that the all caps are how they spell it. I'm inclined to push back, but it's his band and I've never even thought of typing Run-Dmc. So the preferred moniker will prevail from here going forward.
[ next day ]
[ main journal ]
[ previous day ]